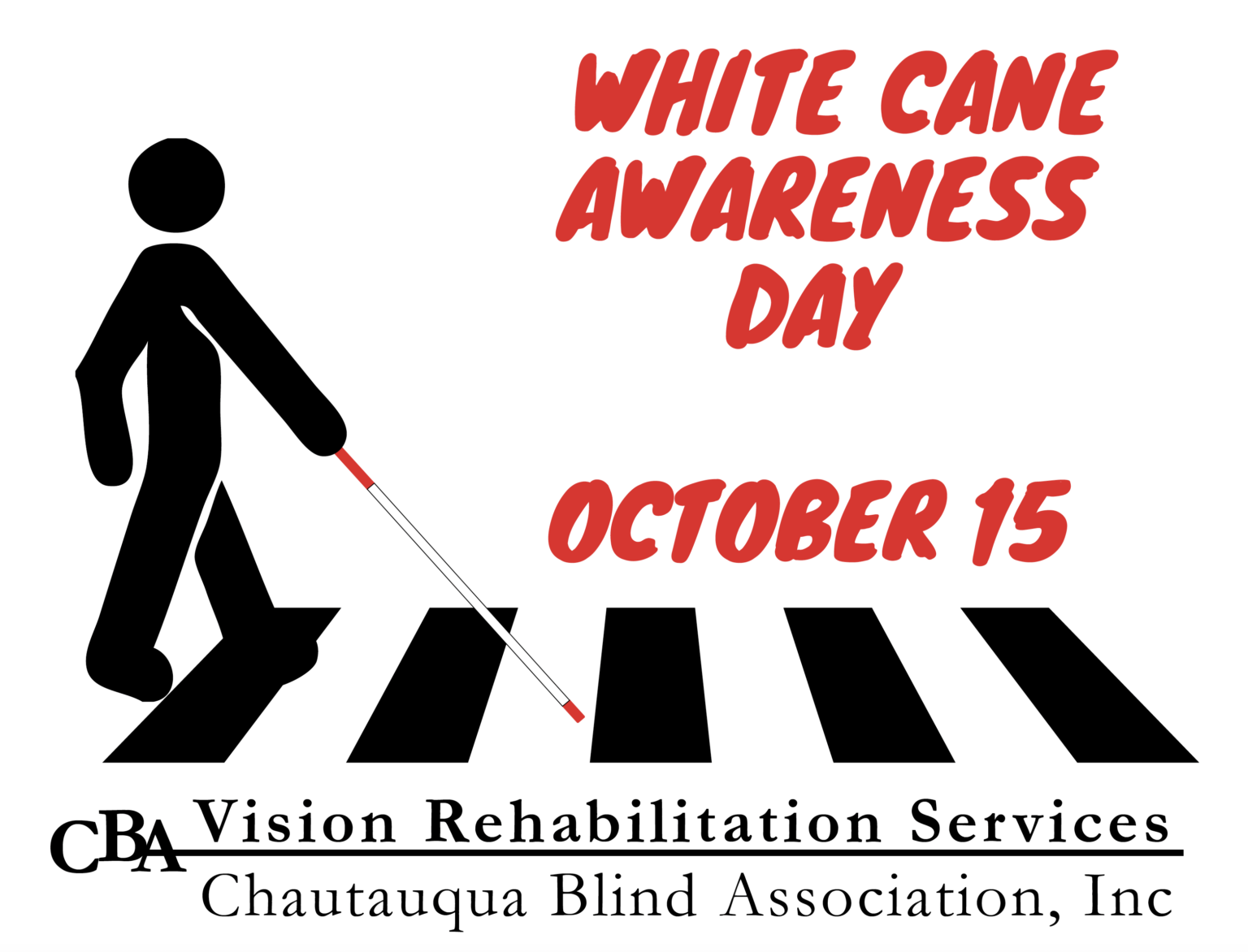 October is National Blindness Awareness month. Friday, October 15th marks White Cane and Dog Guide Awareness Day. It is the day we celebrate the achievements of people who are blind and visually impaired, throughout the nation, and all around the world.
What is the white cane?
The white cane is the universal symbol for blindness or visual impairment. The white cane is used by both those that are totally blind and those with a small amount of vision remaining. Millions of Americans use a white cane or dog guide every day to get to their jobs, school, to run errands and to travel.
The long white cane is a very useful tool to detect obstacles, curb drop-offs, cracks in the sidewalk, stairs, or to find doorways, get on and off buses, and much more. It is essentially an extension of one's arms and hands so one can assess the situation and move more efficiently and confidently. Other white canes are short and serve as a signal to others that the cane user is visually impaired. While the white cane is a tremendous tool, it is also a symbol of independence, that allows individuals with vision impairments to travel from one place to another, efficiently and independently.
Dog Guides
Dog Guides are also used by blind or visually impaired persons. The dogs assist their "handlers" with movement around obstacles and street crossings. Those with dog guides receive extensive training on how to direct the dog. The dogs are trained to obey the commands and lead the team to their destination as safely as possible.
History of White Cane Safety Awareness Day
The White Cane Law has been in effect in New York since 1956. Thanks goes to Jamestown native and 35-year Lions Club member, W. Ernest Tiffany. He began his tireless work on behalf of the blind in 1939. He put in hundreds of long hours of his personal time and considerable expense to convince Governor Harriman to sign the White Cane bill. The law states every motorist must yield the right of way to a person approaching an intersection or crosswalk who has a guide dog or white cane regardless of what the traffic control indicates at the time.
According to the National Federation of the Blind (NFB), a leader in the fight for the rights of the blind, "prior to the 1960s, society largely didn't accept that blind people could travel by themselves." The NFB pioneered innovative training programs using the white cane. White Cane Safety Awareness Day was adopted as a joint resolution in the United States Congress in 1964 at the urging of the NFB. It became official when President Lyndon B. Johnson signed the proclamation hours after the resolution had passed. White Cane Safety Awareness Day has been remembered every year since and continues to promote awareness of independence and equality.
The Top 3 Do's and Don'ts when you meet an individual using a white cane. 
Do's
Do introduce yourself, including your name, especially when entering the room.
Do talk directly to the person and not through a companion.
Do give directions using specific details including using "left" and "right" and not just pointing.
Dont's
Don't assume the person needs help. Ask them if they need assistance before helping.
Don't grab onto the person and try to steer them. Only help if permission is granted.
Don't forget when driving to be aware of pedestrians using a white cane. They may need more time to cross the street and avoid trying to help from the car. No honking or trying to yell that it is safe to cross.
Please Remember
And most importantly, remember that a person using a white cane is an individual with feelings, desires, and goals. They should be treated how we all want to be treated – with respect and dignity.
If you or someone you know is in need of assistance due to visual impairment or blindness, please contact CBA Vision Rehabilitation Services at 716-664-6660 or visit www.chautauquablind.org for more information.