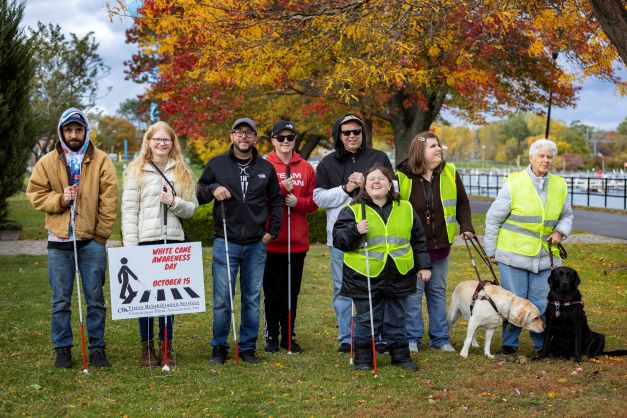 The first annual White Cane Awareness Day Walk was held along Lakeshore Drive, Dunkirk, NY on Saturday, October 15th.  About forty community members, friends and family of those living with visual impairments came together to show their support.  "It was great to see the community and family support for our individuals who depend on the white cane or a dog guide.  We had members of the Dunkirk-Fredonia Lions Club, CBA board members and many family members and friends join us as we walked from the Clarion Hotel to Memorial Park," said Joni Blackman, Executive Director of CBA Vision Rehabilitation Services, who sponsored the event.
While the day started out with the threat of rain and high winds, it settled down when the walk began.  The group of 40 walked along Lakeshore Dr. to the park where they learned about the significance of the white cane, and the history of the White Cane Law.  A proclamation from the City of Dunkirk Mayor Wilfred Rosas was read.  Refreshments were made possible by Tops Supermarket, Mayville, NY and Pizza Village, Dunkirk, NY.  
On October 15, White Cane Safety Awareness Day is observed around the world.  In the United States, it is a national observance, which was first celebrated in 1964, after the proclamation by President Lyndon B. Johnson.  White Cane Safety Awareness Day celebrates the achievements of blind or visually impaired people. A white cane is an important mobility tool for such people as well as a symbol of their independence. Canes have been used by blind people for centuries, but the white cane was introduced in the early 20th century. Canes were painted white to be more easily visible. In the United States, white canes were introduced and promoted by Lion Clubs International. Gregory Cole, a Lions Club member, also spoke to the group about the work of the Lions Club and their mission to support those with vision impairments.  
"This walk is to raise awareness of the white cane and dog guides who assist blind individuals in navigating our cities and towns.  In New York State, thanks to the determined efforts of Jamestown Lion's Club member, W. Ernest Tiffany, the White Cane Law was passed in 1956. It stated that every motorist must yield the right of way to a person approaching an intersection or crosswalk who has a guide dog or white cane regardless of what the traffic controls indicate at the time," Ms. Blackman added.
A drawing was held for four tickets to enjoy the Northwest Arena Ice Bumper Cars and a free Domino's Pizza.  The Dan and Sue Stone family won the drawing.  The extended Stone family showed up in big numbers to support a member of their family who receives services from CBA Vision Rehabilitation Services.  The entire Stone family wore custom-made red shirts.
"Plans are underway for the 2023 White Cane Awareness Walk to be held in Olean, NY. We serve both counties, Chautauqua and Cattaraugus through a contract with New York State Commission for the Blind, and donations from the United Way of Southern Chautauqua County, United Way of Northern Chautauqua County, the United Way of Cattaraugus County and individual donors.  Anyone interested in helping us with our mission is welcome to contact me at 716-664-6660 and visit our website at www.chautauquablind.org for more information," said Ms. Blackman.