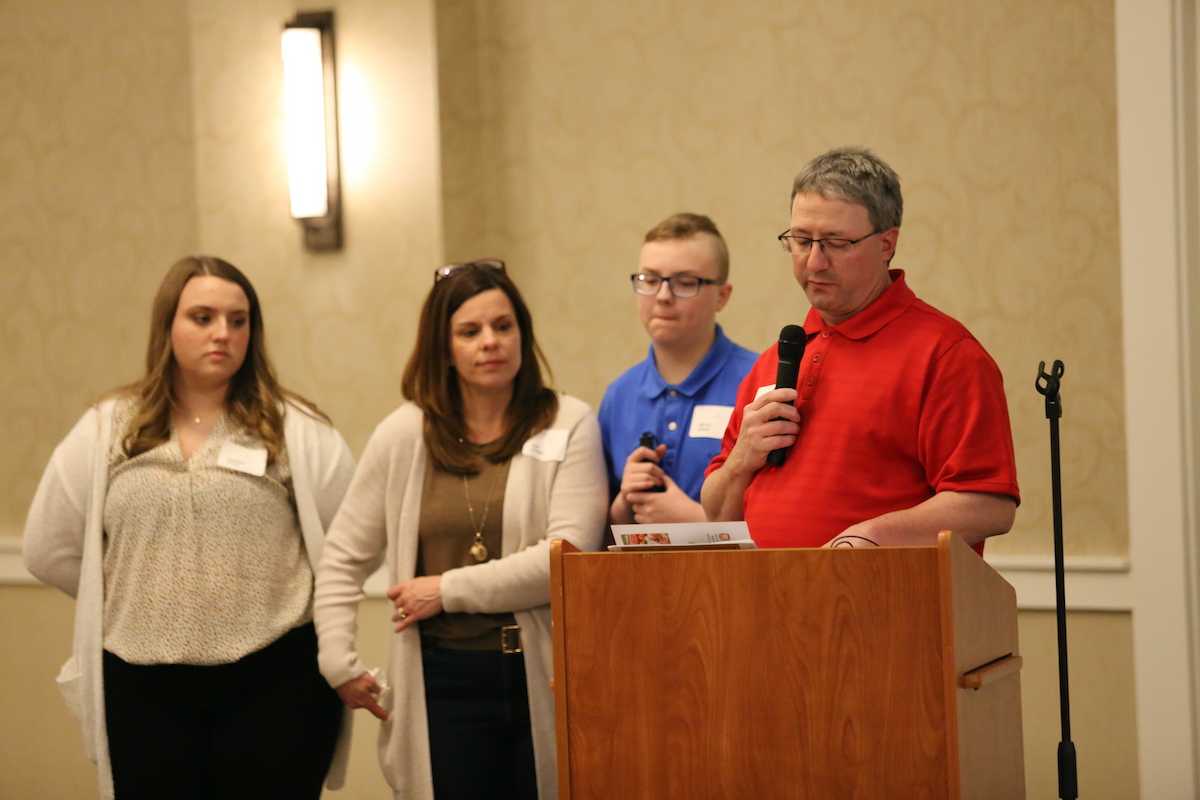 CBA Vision Rehabilitation Services held its signature event, Dining in the Dark, on Thursday, April 21st at the Harbor Hotel in Celoron.  "After a two-year hiatus, we were able to gather again to raise funds for our important youth vision screening program," said Joni Blackman, Executive Director.  All proceeds support the Youth Vision Screening Program which screens over 4,000 children, aged 3-6 years old, every year for early childhood eye disorders.  CBA's mission is to enable visually impaired people to be active members of their community and to provide education and services to prevent vision loss.  
The fundraiser and awareness-building event started with socializing and cocktails, then each blindfolded guest was led into the dining room by sighted guides trained by the CBA staff.  The sighted guides are Jamestown Community College Occupational Therapy Assistant students and SUNY Fredonia pre-health club students.  The guides then assist their table of guests with their meals. This year over 160 guests experienced eating without seeing. 
The event is both a learning experience and inspirational.  The speaker for the event was Daniel Stone and his family.  The family has used many of CBA's services, from the youth vision screening program to orientation and mobility training.  Mr. Stone and his son Bryce both spoke about how grateful they were for all the services they have received from the New York State Commission for the Blind, CBA Vision Rehabilitation Services, the Jamestown Public School District, and other related agencies. Mr. Stone told his family's story with humor and heartfelt emotion.  He ended his talk with a rhyme and a salute to the Buffalo Bills, which many in the room supported. 
The Louise Tefft Award was given to Michael Herlong of Fredonia, N.Y. for his long-time support.  "He is the co-owner of Fresh & Fancy Floral Design Studio in Fredonia, and so much more.  Michael has made use of our services and continues to support us by telling others about our services, advertising the Dining in the Dark event at the shop and even designating CBA for a $10,000 grant from the Small Business Revolution television production in 2020," said Ms. Blackman.  Mr. Herlong gave a moving talk about his journey.  He lost his sight as an adult.  He was a successful businessman in a demanding profession, working in Buffalo, when he had to re-learn how to be himself again.  His talk, which he delivered aided by his smartphone's audio assistance, was about applying his sense of adventure and optimism to his everyday life to discover how to be independent and happy again.  "Between the two speakers, Mr. Stone and Mr. Herlong, there were laughter and tears," said Ms. Blackman.
Following the speakers, the live auction took place.  The auction items included hand-made live-edge tables, a bench, a painting by local artist Julie Kleven, and an assortment of Buffalo Bills autographed memorabilia.  
"The board of directors and the staff would like to thank all the individuals and businesses that supported this evening; the silent and live auction donations, and our sponsors," said Blackman.  The sponsors for the event were UPMC Chautauqua, Wegmans, Stone Audiology, Stone Plumbing, ICCY Ink, Weber Knapp Co., Ahlstrom-Schaeffer Electric Corp., Chautauqua Eyecare, Spectrum Eyecare, Chautauqua Chemical, The Resource Center, David Snow State Farm Insurance, Hansen Financial Group, Fresh & Fancy Floral Design Studio, Seneca Resorts & Casinos, Allied Alarm Services Inc., Cattaraugus County Bank, Ryders Cup Coffee, Lind Funeral Home, Lisa and Andrew Goodell, Lawley/Rhoe B. Henderson Agency, STEL, a friend of CBA and Johnson Estate Winery.
"I want to add my thanks and appreciation to all who supported the event in any way.  The youth screening program is a very important service CBA provides throughout Chautauqua and Cattaraugus County.  Without it, many young students wouldn't know they needed eye care and glasses," Megan Maynard, Co-President of the Board of Directors, "and we hope to see everyone next year."