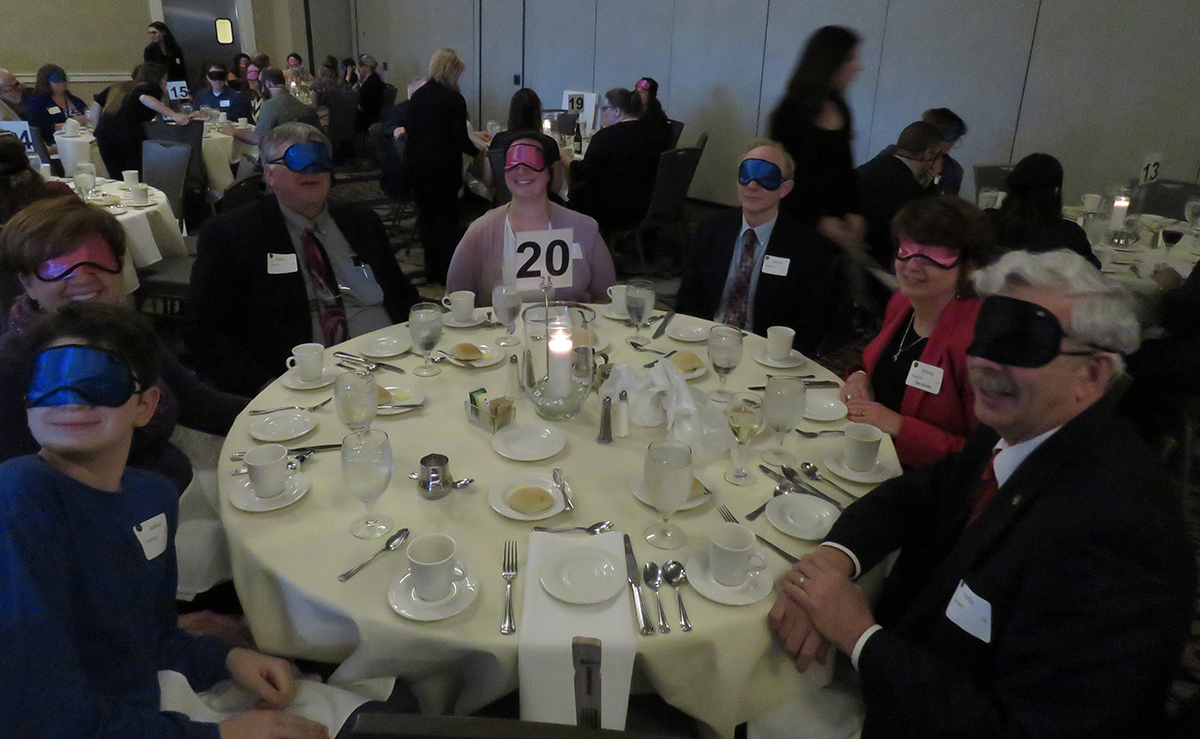 Jamestown, N.Y. (February 16, 2022): After a two-year break, the Chautauqua Blind Association will celebrate the agency's 10th Dining in the Dark event on Thursday, April 21 at the Chautauqua Harbor Hotel in Celoron, NY. Dining in the Dark is a unique experience of eating without seeing. Starting at 6:00 p.m., guests are invited to socialize, enjoy a cash bar and bid on silent auction items. Dinner seating begins at 6:30 p.m. where each guest will be blindfolded prior to being led by a sighted guide to their table to enjoy a 3-course meal.
The event is a fundraiser for the youth vision screening program.  "The Chautauqua Blind Association has been providing free vision screenings throughout Chautauqua County for over 40 years," says Joni Blackman, executive director. Pediatric vision screening is intended to identify children with vision disorders including amblyopia, strabismus, significant refractive error, or other eye abnormalities. "Historically we have found that 14%-16% of the children we screen are identified with a vision abnormality, however because of increased electronic device screen time over the past couple of years, the referral rate is around 18%," added Ms. Blackman, "that means of the 4,450 children screened in 2021, 795 needed to see an eye doctor."  After a child is identified as needing further follow-up, the school nurse or teacher notifies the parents recommending a visit to an eye care professional for a comprehensive exam. To help assure that follow-up treatment is received CBA created the Sight for Success Program in 2019. Following the untimely death of Dr. Timothy Grace, many individuals made donations and memorials in Dr. Grace's name, asking that their donations reflect his passion for improving the eye health of our community. The perfect partnership was formed by combining Dr. Grace's vision of eye health and the Chautauqua Blind Association's Sight for Success Program to be named the Dr. Timothy Grace Sight for Success Program.
"Please join us for a one-of-a-kind sensory adventure," said Ms. Blackman, "you will have a dining experience without the use of your sight. Sighted guides will teach you how to navigate the meal.
This event has been well received and supported by the community.  It has supported our Youth Vision Screening Program for the past ten years and provided funds to screen over 27,000 children."
Reservations are $65 per person and include a 3 course meal. Reservations are appreciated by Thursday, April 11 and can be made online at chautauquablind.org, or by calling 716-664-6660.
Dining in the Dark offers community partners and businesses a great way to support the Chautauqua Blind Association while receiving exceptional visibility and recognition. Sponsorships are available to fit any budget and include dinner reservations. Program listings are available for $100. For sponsorship information, call Joni Blackman at 716-664-6660. Sponsorship deadline is April 1.
Donations for the silent auction are appreciated and can be dropped off up until the day of the event at The Chautauqua Blind Association, located at 510 W. 5th Street, Jamestown, NY.
If you are unable to attend but would like to support the mission of the Chautauqua Blind Association, a tax-deductible donation can be made online here or by sending a check to the Chautauqua Blind Association located at 510 W. 5th Street, Jamestown, NY.