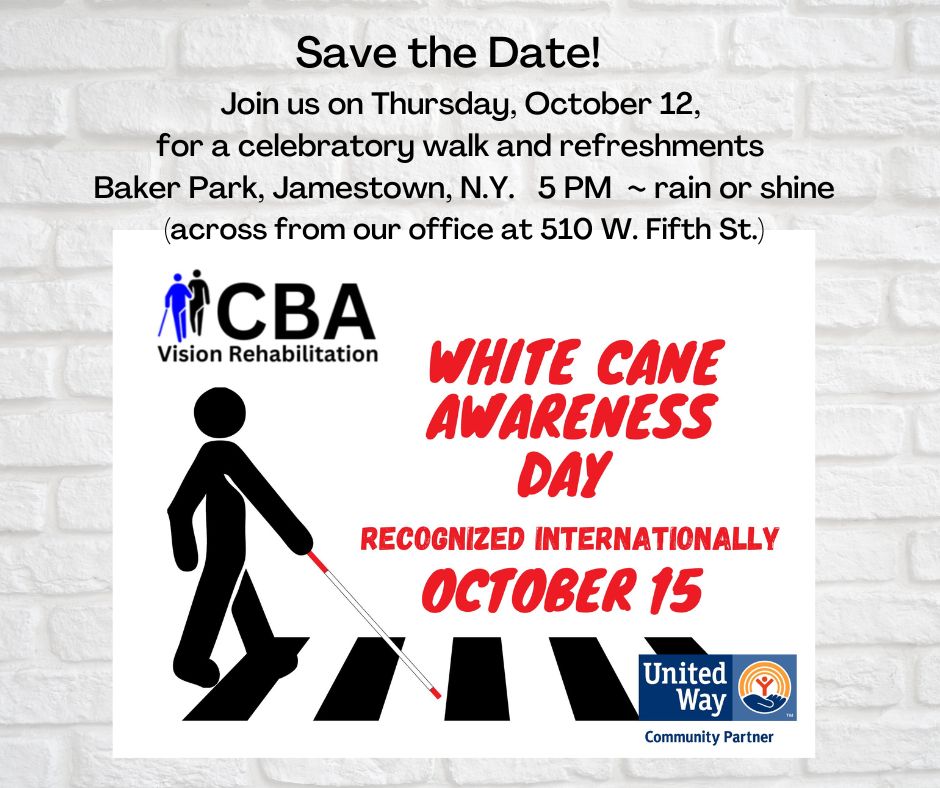 While White Cane Awareness Day is celebrated internationally on October 15, the local vision rehabilitation and orientation & mobility provider, CBA Vision Rehabilitation Services, will hold a walk on Thursday, October 12 at 5 p.m. at Baker Park in Jamestown.  Baker Park is located across from the CBA office at 510 W. Fifth St.  Parking is available beside and behind the office. The walk will proceed around the park, and then gather in the park where supporters can learn more about the white cane, try their hand at walking with the cane, and enjoy meeting others who support our services. Refreshments will be served following the presentations in the CBA offices.
CBA Vision Rehabilitation Services provides services to the legally blind in Cattaraugus and Chautauqua Counties. The white cane is the universal symbol of blindness or visual impairment.  The United States Congress adopted a joint resolution in 1964 designating October 15 of each year as White Cane Safety Day and recognizing that white canes enable blind people to travel safely and independently.  It is also a day to increase awareness of the white cane traffic safety laws.
All in attendance can enter a drawing for a Chautauqua Belle history tour of Chautauqua Lake.
For more information visit cbavision.org. (a United Way partner agency) or by calling 716-664-6660.