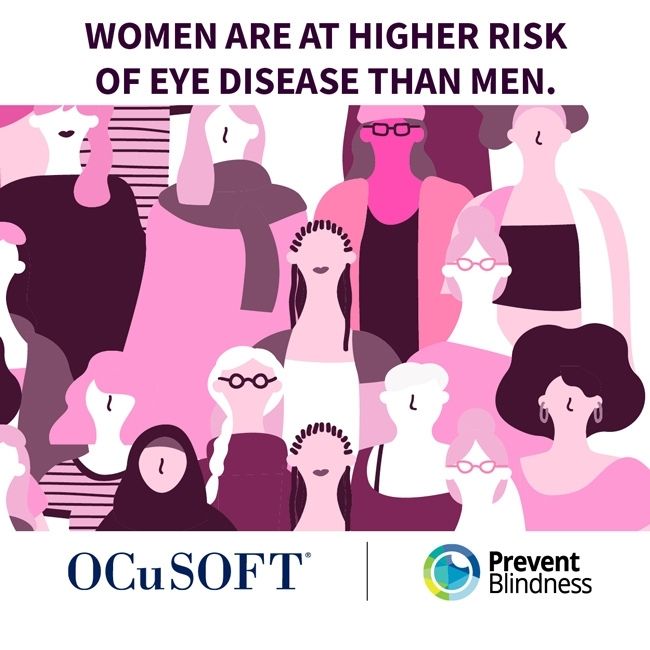 Did you know two out of every three people living with blindness or vision problems are women? Data from The Future of Vision: Forecasting the Prevalence and Costs of Vision Problems study shows that women are at higher risk for certain eye diseases and conditions. The national organization Prevent Blindness has declared April as Women's Eye Health and Safety Month in an effort to educate the public on the increased risk for women and vision health issues, as well as steps that can be taken to prevent vision loss.
"Many times women are the caretakers of their families and put themselves at the bottom of the list," said Joni Blackman, Executive Director of CBA Vision Rehabilitation Services, "I encourage all caretakers to make their health a priority, for themselves and their families."  
Women have a higher prevalence of major vision problems, including:
Age-related Macular Degeneration

Autoimmune Diseases (such as Lupus or Sjögren's Syndrome)

Cataract

Dry Eye

Glaucoma

Low Vision

Thyroid Eye Disease

Refractive Error
According to the World Health Organization's World Report on Vision, women, on average, live longer than men, and are thus at greater risk of developing eye conditions associated with aging. However, even after controlling for age, global estimates suggest that women with moderate and severe distance vision impairment outnumber men by approximately 7 percent.
Gender and financial disparities can also create barriers to eye care access for women.  A recent study published in JAMA Ophthalmology found that although women were more likely to use eye care, they are also more likely to report difficulty affording eyeglasses than men.
In addition to eye disease and conditions, women have unique health issues related to pregnancy and menopause due to fluctuating hormone levels. Women may notice changes in their ability to see clearly during pregnancy. Women with pre-existing conditions, like glaucoma, high blood pressure or diabetes, need to alert their eye doctor that they are pregnant (or planning to become pregnant). Additionally, dry eye leading to a clinical diagnosis or severe symptoms affects more than 3.2 million American women middle-aged and older.
As ophthalmologists and optometrists re-open their practices after pauses due to the COVID-19 pandemic, it is important that women make their vision health a priority to help detect vision issues early. Early and consistent treatment for most eye diseases can significantly reduce the risk of vision loss.
Prevent Blindness America offers these tips to help lower the incidence of eye diseases in women:
Eat Healthy and Stay Fit– The American Journal of Clinical Nutrition found that the risk of cataracts can be lowered by eating 3½ servings of fruits or vegetables a day.  Green leafy vegetables especially contain loads of nutrients for the eye.  Pairing a healthy diet with exercise will reduce the risk of diabetes.
Take Supplements– Antioxidants have been shown to actually reduce the progression of some eye illnesses, including AMD.  Vitamin A, riboflavin (vitamin B2), vitamin C and zinc are good sources to help maintain eye health.
Quit Smoking– Besides the typically known side effects of smoking including cancer, lung disease, etc., it also increases the risk for eye diseases.
Wear UV Eye Protection- When venturing outdoors, Prevent Blindness America recommends wearing brimmed hats in conjunction with UV-rated sunglasses (labeled: absorbs 99-100 percent of UV-A and UV-B rays).  UV rays are extremely dangerous for the eyes.      
Know Your Family History- Genetics plays a key role in eye disease.  Research your family's health history and notify your eye care professional of any eye diseases that run in the family.
For more information on visual health and blindness prevention, visit www.chautauquablind.org.